The Long Year (A June Relaunch Update)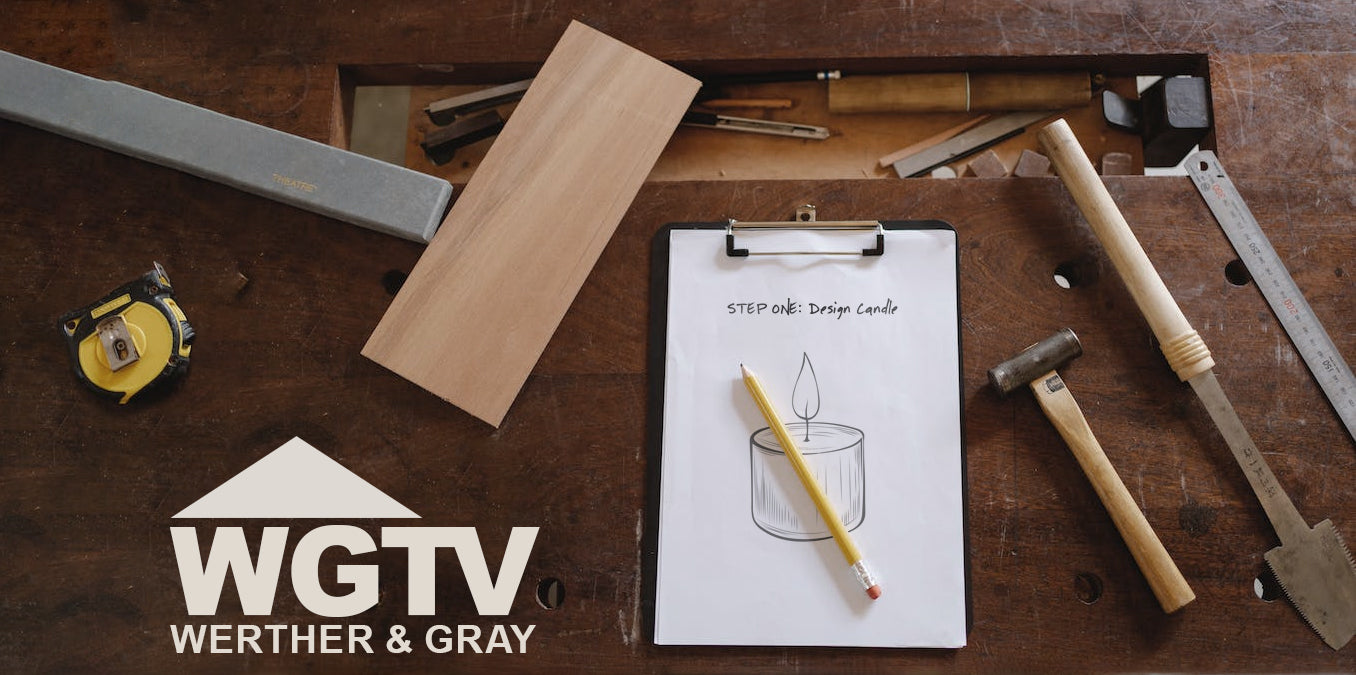 CANDLE FLIPPER
If you watch enough TV shows about real estate or home renovation, one of the things you learn is that in any house venture, it's good to be flexible. Whether buying or selling a home, you must always expect some compromise, somewhere, before the deal closes. If you're renovating, you must expect the unexpected. Set a budget far less than what you can actually afford, and double the timeline. Because what you don't know is there's asbestos tile under that 1970s linoleum floor, which requires a special process for removal, and oops, to get that addition built you'll need an entirely new foundation!! The tension and the drama in renovation TV shows comes from people grappling with these issues.
So…
Let's just say there's been a lot of tension and drama behind the scenes of Werther & Gray—and it's not unlike a home renovation TV show.
Some of the challenges related to the relaunch of the brand have certainly been my own unrealistic expectations and naïveté, but some of the blame for my setbacks can be placed on others. I'm not exaggerating when I say that every single order of packaging, labels or vessels that I've placed since last December has either had a significant delay or some kind of mistake (which then leads to a delay). Every. Single. Last. One. Some highlights from this Murphy's Law nightmare:
receiving an order of labels that was 1) exactly one tenth the quantity of labels I ordered (someone missed a "0"), 2) loose, individual stickers instead of labels, 3) only 3 of the 4 designs… ALL THIS IN THE SAME ORDER

waiting six weeks for a large overseas order of vessels only to discover they were the wrong color

a packaging job with a turnaround time of ten days that actually took two months (and the eventual product received was different in multiple ways from what I asked for)
Throw in a six week period of delays surrounding Chinese New Year, and the arduous process of test burning, and we've got a recipe for loooong, excruciating PAIN. Turns out rebuilding an entire business from the ground up is much more difficult than incremental growth. Who knew? Apparently not the guy who's watched tons of HGTV.
In all seriousness, this has taken a major toll on my mental health. I thought, either the universe is being incredibly cruel to me, or the problem is me. Cue imposter syndrome, feelings of worthlessness, etc. Some dark days, my friends.
So what exactly is the point of all this then?
When I abruptly left Etsy last year, it got me thinking about what Werther & Gray might look like if not competing in that space. The prospect of radical change excited me, and I reimagined Werther & Gray as a luxury brand. If I could afford to raise my prices, I would be liberated creatively. I could manufacture custom vessels, design whatever kind of packaging I wanted, and I could include expensive perfumery materials into my fragrance palette. No limits.
So that's it, that's the big reveal. The whole point of relaunching. Voila! A luxury makeover!
While that is still very much the plan, I've been humbled. It's not going to happen quickly, and it can't happen with a shop that's closed, or half-opened, as it is now. So I've come up with a new plan to bridge the gap.
WERTHER & GRAY STUDIO
I will be creating a separate section of the website called Studio, which will include a series of limited edition collections, seasonal releases, and "last chance" items—basically, anything that is not considered a permanent (long-term) product. You should see a handful of new limited edition collections up there in the next couple weeks.
What makes these candles different? I'm not customizing every element of design, and I'm sourcing domestically. That's limiting, but it makes for a much quicker release, which is ultimately the point. Not all the materials used will be luxury, but they are still, to a large degree, an upgrade from what Werther & Gray has been in the past! 
This section of the site will also serve as proof of concept for new ideas, before investing in large quantities of materials, and it will help fund the completion of the other "permanent" collections. 
Just a final note about the luxury stuff... There are four of those collections in various stages of completion. The first is very, very close to a release. Hopefully I'll be able to complete at least one more official "new era" collection this year—with your help! The luxury collections which are already in progress will move forward as planned, taking however long is necessary, and have nothing to do with Studio.

My life has been a confusing mess this year, so I tried to be as clear as possible in explaining everything. Hopefully it makes sense.
Thanks so much to all of you who have stuck with me during this period. I appreciate you so very much.
Until next time,
Yours truly,
Charles
Morris: Collection Story

A candle collection inspired by the art of William Morris has long been a goal of mine. I first encountered Morris and the Pre-Raphaelite movement while studying art in college and was immediately captivated by the rich stories and history that surrounded the group. I read...